Training & Services
Short Training Courses
We always recommend that our customers take training when purchasing voice recognition software. If Dragon NaturallySpeaking® is used incorrectly, your voice model will deteriorate and recognition will become disappointing. With the correct hardware and professional training, users can expect to reach 97% accuracy with speeds in excess of 120 words per minute into most windows applications.
1-2 half days is generally sufficient for most people depending on ability and requirements. Training by one of our Dragon Certified Instructors will normally be carried out one-to one at a your location of choice.
Additional training can also be carried out to all members of your support staff.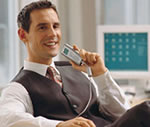 All training is:
Carried out by our Dragon Certified Instructors,
Designed to meet individual requirements, and
All our clients will be provided with VRS training material.
The training is designed to be flexible to accommodate to the users requirements and abilities. Training material, including a manual will be provided, listing out the main functions and commands to control your software. At the end of the session, it is aimed that the participant will have full control of the voice recognition software, enabling you to dictate text directly into your windows applications, amend and format documents, and set-up specialist vocabularies and dictation shortcuts.

Click here for full details of our training.
Support
All voice recognition software training will automatically receive up to 12 months telephone/email support.
Demonstration
Our trained demonstrators will demonstrate the products at your office or home. Alternatively you can arrange a visit to our offices.
Quotation
We will provide fully itemised quotations based on your requirements as requested by you, or if you prefer, as recommended by our trained staff. This can include all or just part of hardware, peripherals, software, installation, training and support.